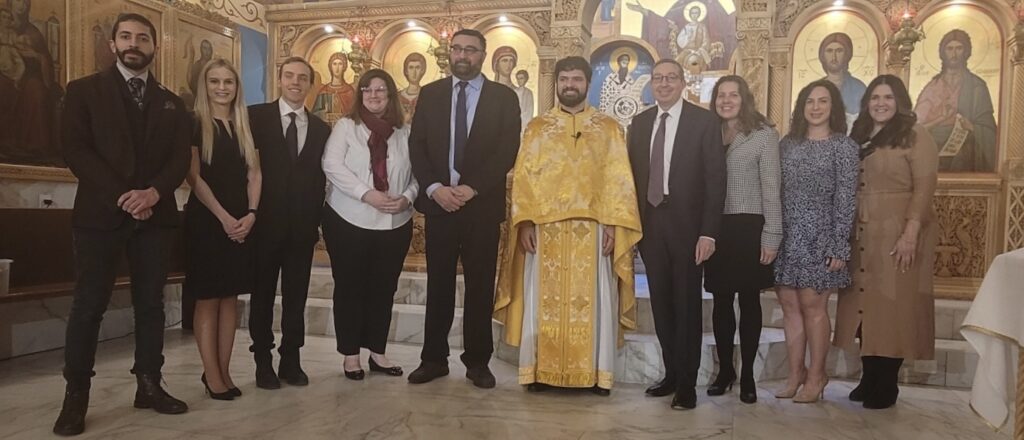 The Parish Council is a group of volunteers who have committed their time and talents to serving the parish. Led by Parish Council President, Andrew George, the Parish Council supports Father Sophronios and the congregation so that the church can continue to serve the community.

The Parish Council members participate in a swearing in ceremony at the beginning of their term as they commit to serving the church. The members also attend a Parish Council Seminar in order to learn about the rules and regulations, bylaws, and appropriate ways of working.

If you have any questions about how to get involved with St. George, the Parish Council members would love to speak with you! We are looking for liaisons who would be interested in leading ministries such as Sunday School, G.O.Y.A., and other fundraising events. We can't wait to work with you!
2023 Parish Council
President
Andrew George

Vice President
May McGuinness

Treasurer
Anastasios Sharafeldin

Scheduling Secretary
Marcus Marrero

Members-at-large
Lena Jane Carey
Katerina Gkionis
Sophia Robbins
All Parish Council members must be Greek Orthodox and in good standing with St. George for one year prior to the elections in order to run for the Board on the Parish Council.
Once elected, Parish Council members must take the following oath:
"I do solemnly affirm that I will uphold the dogma, teaching, traditions, holy canons, worship and moral principles of the Greek Orthodox Church, as well as the constitutional charter, discipline and regulations of the Greek Orthodox Archdiocese of America, and that I will faithfully and sincerely uphold the duties and obligations required of a member of the Parish Council. So help me God."
On a monthly basis, Parish Council members meet to consider, discuss, and decide on matters pertaining to our community. Regular attendance to Divine Liturgy and monthly meetings is required.